'Roman Amphora' by Sue Roe to be Exhibited at 'The Awagami International Miniature Print 2019' in Japan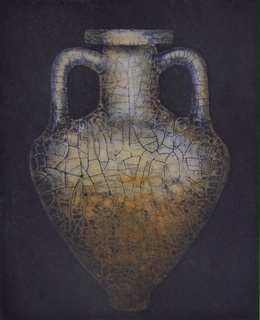 Delighted to announce that one of Sue Roe's prints, 'Roman Amphora' has been given an Honourable Mention and is part of 'Awagami International Miniature Print 2019' Exhibition in Japan. The exhibition takes place at the Awagami Inbe Art Space, Tokushima from 5th October until 10th November. The print is a Collagraph and is printed on Hakuho Select Washi paper.

This was the first time Sue used Japanese Washi paper and it proved to be a challenge, the paper being handmade and largely unsized. Sue would normally soak the printing paper for a few minutes and then blot it before printing on it. However, the Washi paper only needed gentle misting and blotting. Not having the surface treated or coated with sizing makes the paper very absorbent, thus Sue had to alter the way she inked and wiped the inking plate. The Washi paper absorbed the ink beautifully and produced a delicate print capturing all the tones.